11-19-2016, 08:52 PM
(This post was last modified: 11-19-2016 09:01 PM by WatchThis.)
WatchThis
Junior Member


Posts: 6
Joined: Nov 2016
Reputation: 0
First Bobber
So this is what brings me here to this forum... a 1999 Vulcan 1500 Classic that I inherited from my dad. He bought the bike back in about 2002 and when I turned 16 in the summer of 2005 I got my own bike, albeit a sportbike though. My dad and I would go for rides all the time until I joined the Army and got sent across the country but motorcycles were still a very important part of both of our lives. Fast forward to January of 2015, I inherited the Vulcan from my dad after he passed away.
The bike has quite a bit of sentimental value to me as I'm sure is obvious and I'd love to ride it but there are a few challenges there. I'm a fairly small guy which is why my Ducati fits me so well whereas the Vulcan is about twice the weight and MUCH wider... I'm only 5'8", 145 pounds. Which is a big factor in me bobbing it out, trying to cut down the weight and bulkiness as well as loving the style of bobbers versus the traditional cruiser look. Also, while I've had dirt bikes most of my childhood/teenage years and sport bikes since I've had a license, I've never done much tinkering on cruisers. There are similarities but also a good bit of differences. So I'll be updating the progress on this thread and also asking questions along the way as well. Enough rambling though, I know how you folks love pictures, as do I, so here goes.
---
What I started with: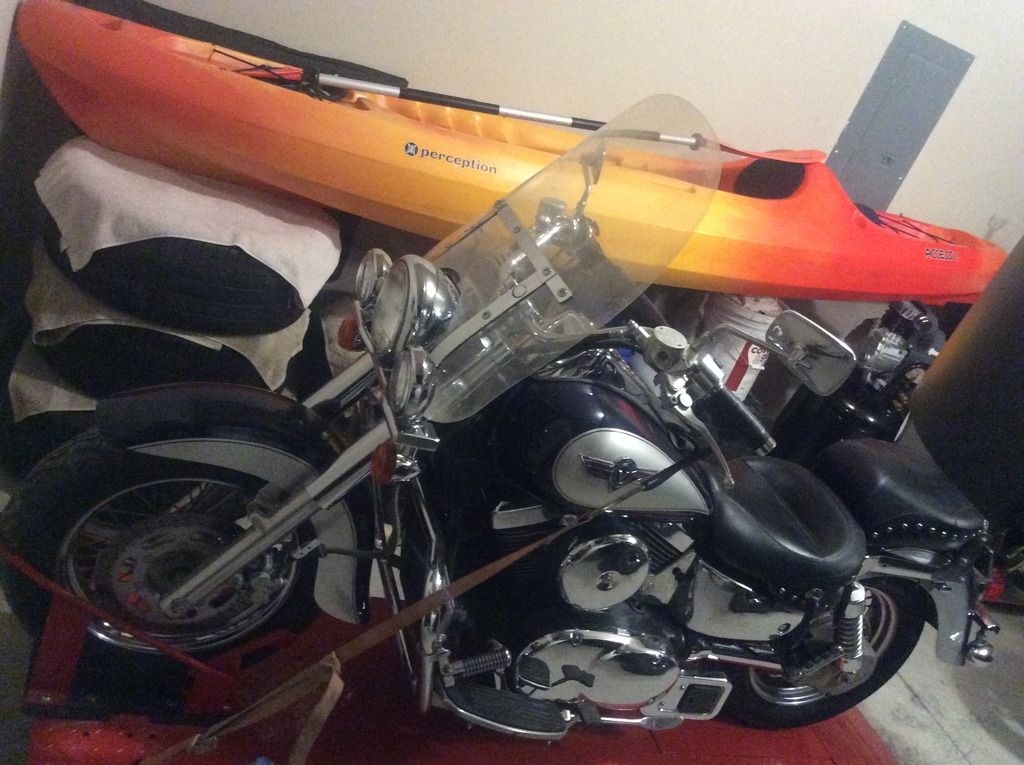 After about a week of stripping stuff off of it :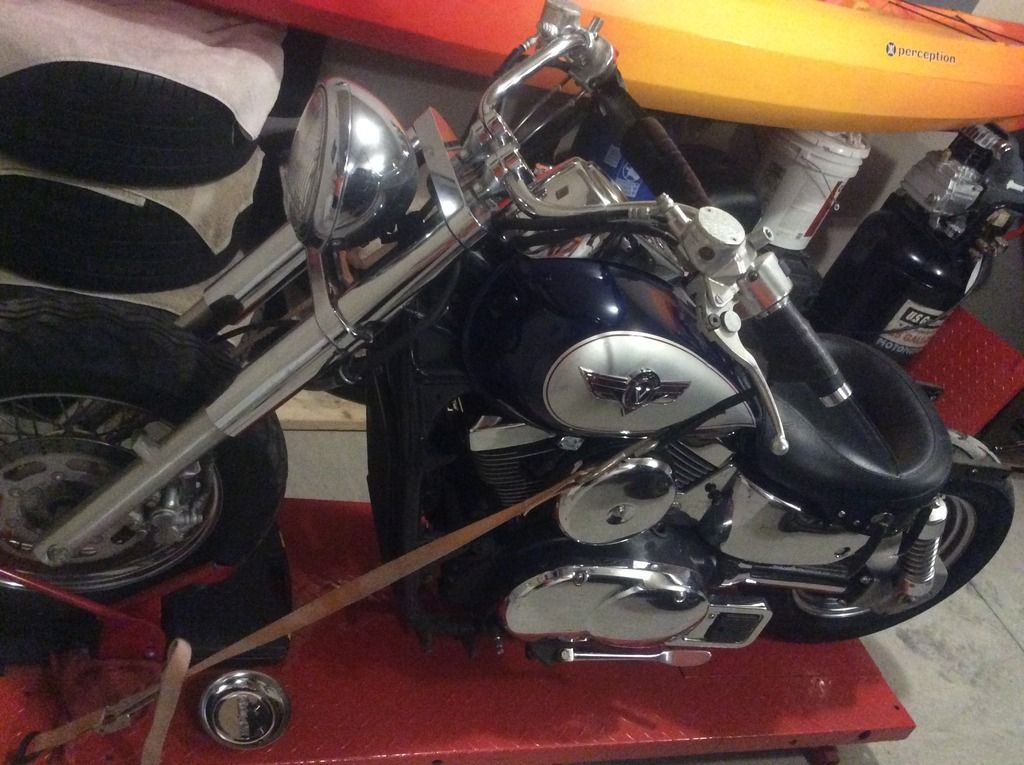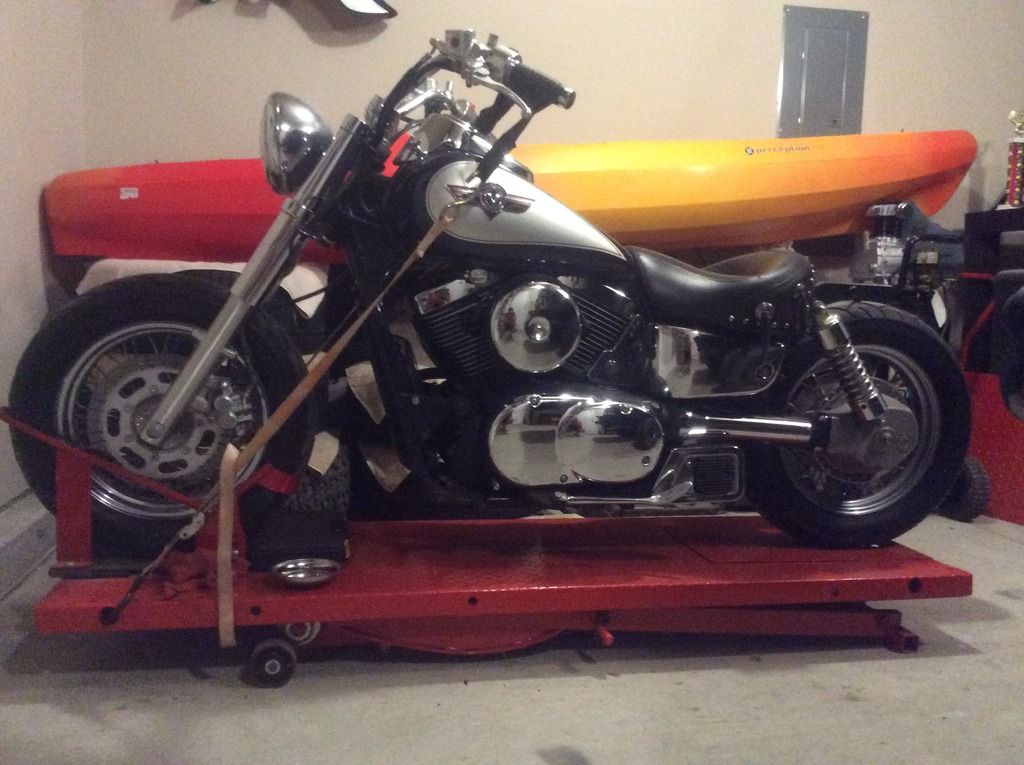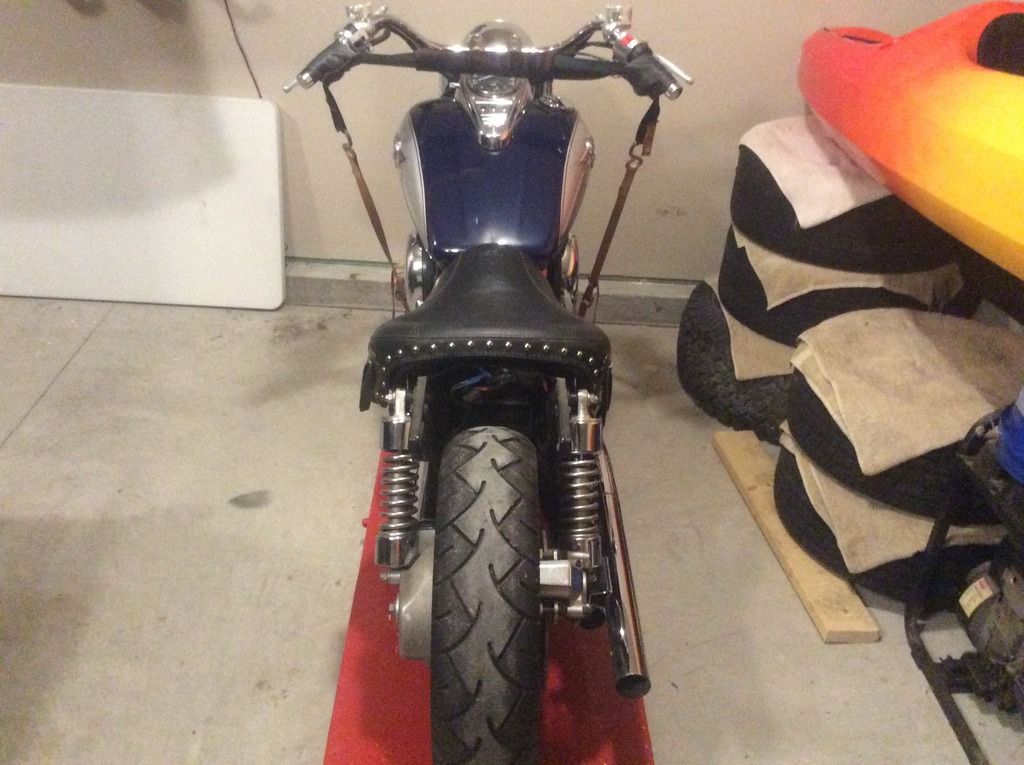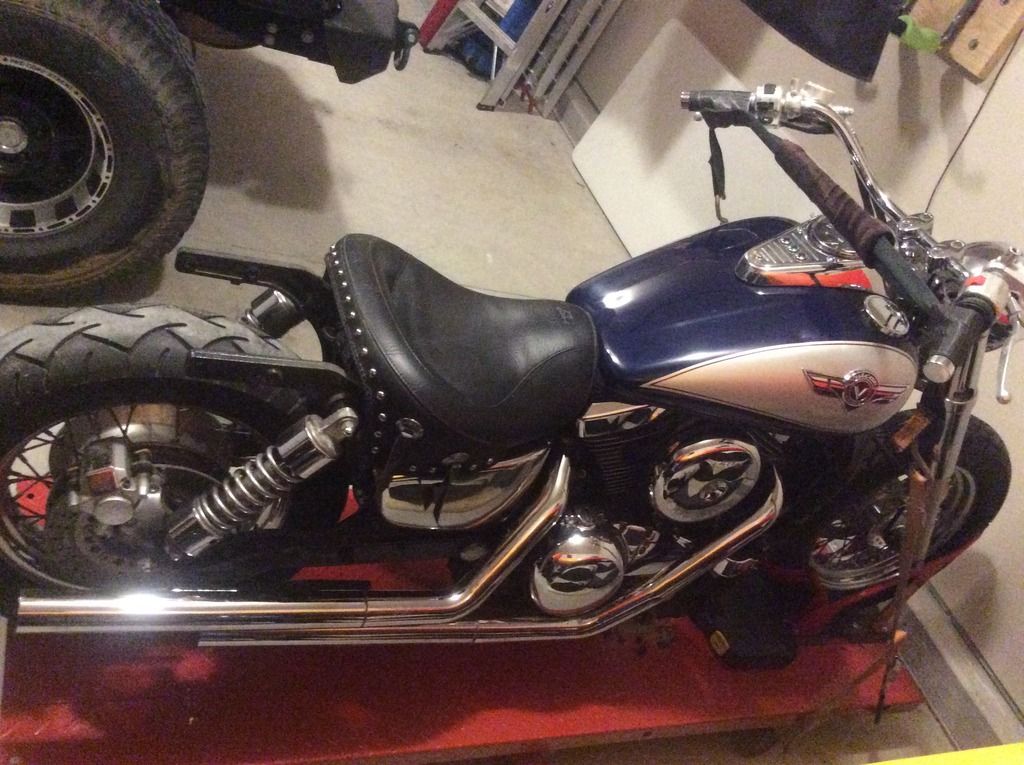 ---
1999 Kawasaki Vulcan 1500 Classic
2014 Ducati 1199 Panigale S

-David
11-24-2016, 03:30 PM
(This post was last modified: 11-24-2016 03:41 PM by WatchThis.)
WatchThis
Junior Member


Posts: 6
Joined: Nov 2016
Reputation: 0
RE: First Bobber
So a quick update, I got the tank pulled off and over to the painter along with the side cover. Also got the fender chopped which presents the problem I had already semi-anticipated which is lowering the fender down close to the tire.
Here's the fender taped off for a general idea of where to cut: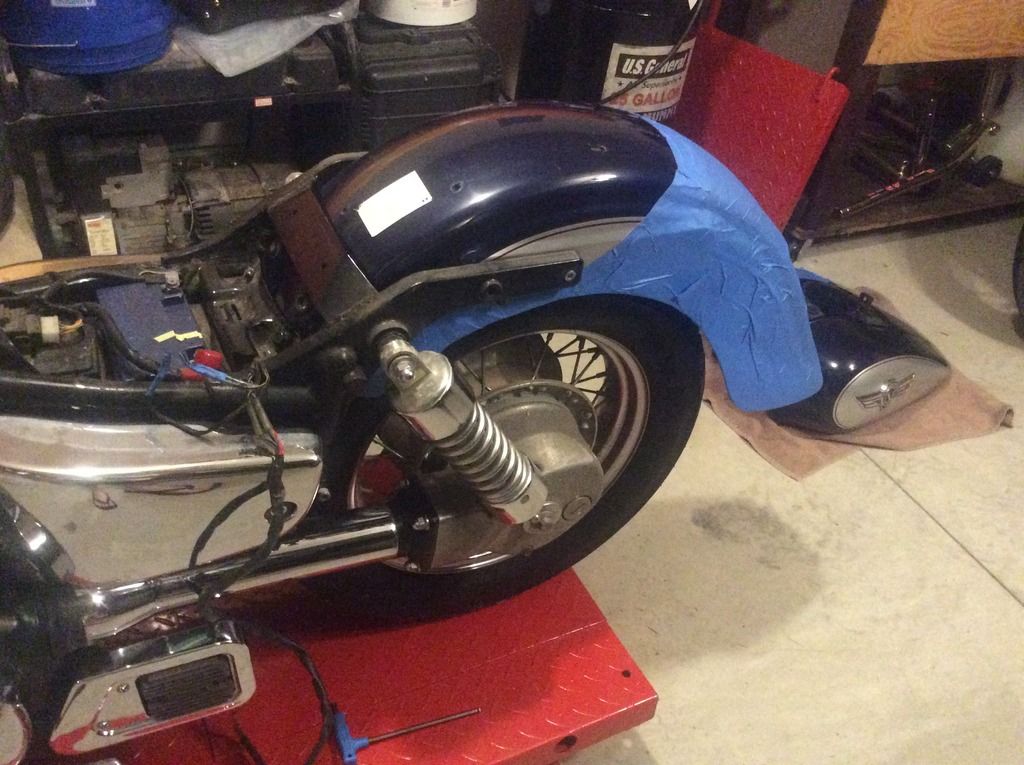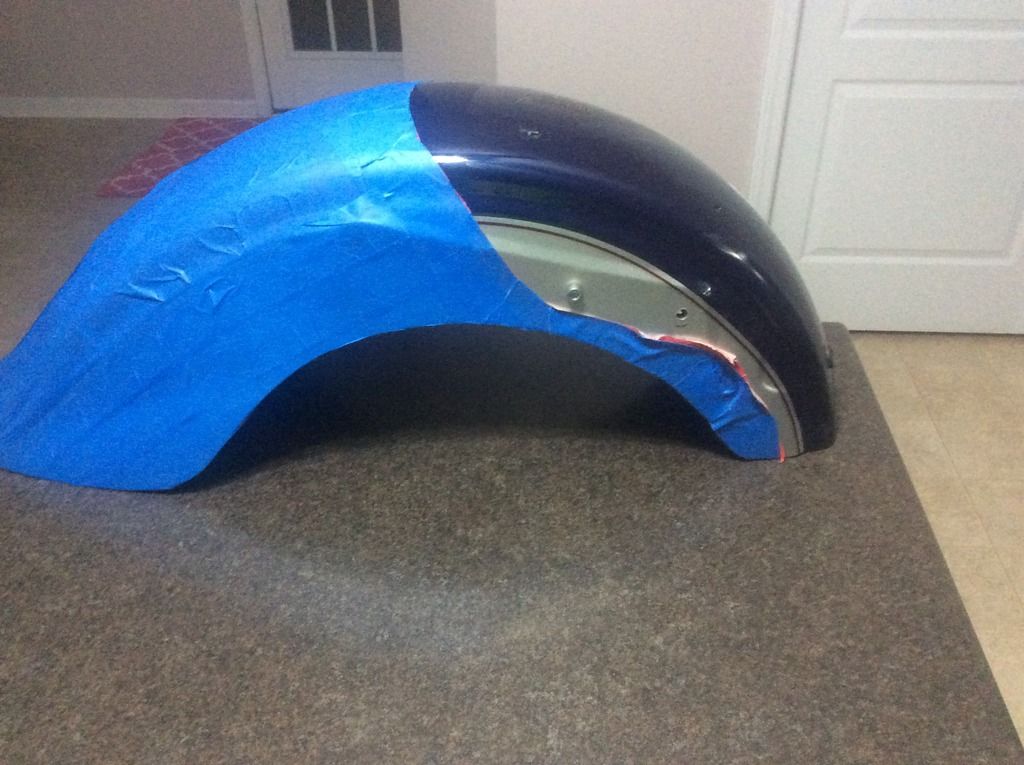 And here it is chopped and mocked up again: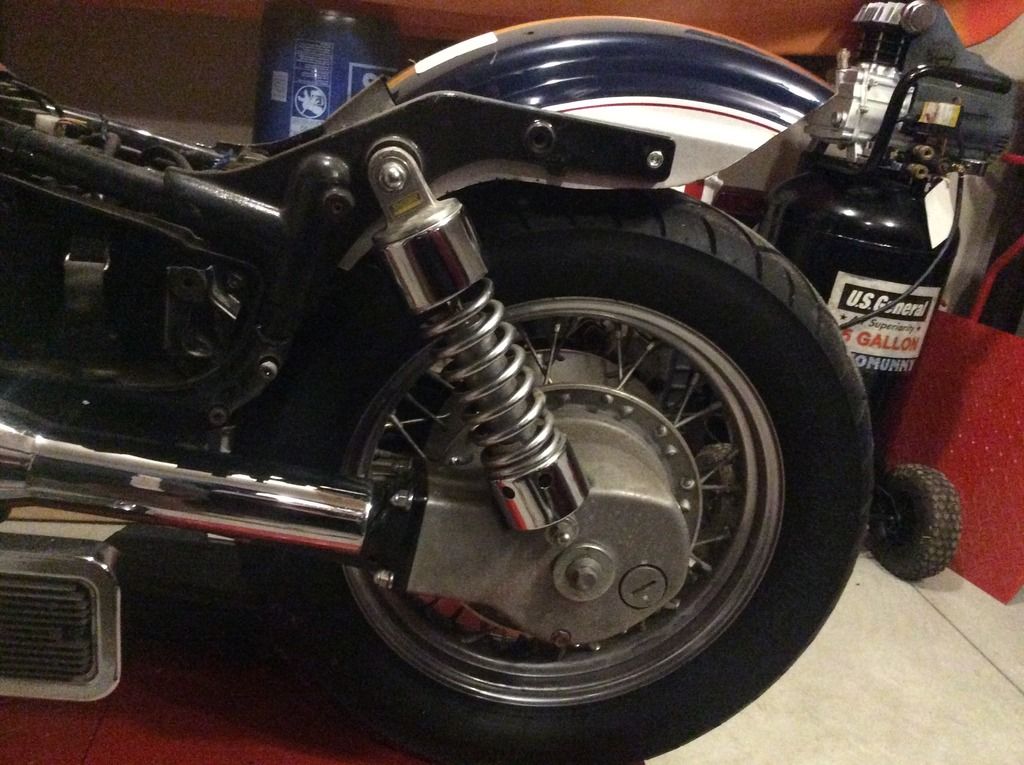 ---
I still have some trimming to do on the sides of the fender so that it won't be visible behind/below the frame rails as I'm going to also cut down the chrome frame rail covers and reuse them. Now for the part that I'm not sure about and need help with. I knew I was going to have to lower the rear of the bike once I cut the fender, I anticipated that. My plan for the bike is actually to keep it a soft tail as I'll have my lady friend with me every now and then on the bike. My solution was to just get a set of Progressive shocks which are about 1.5" shorter than the stock shocks and that's the shortest shock they sell. Figured that would be enough. It won't be. The fender to tire gap is about 5 and 1/4" and I'd like it to be about 1 and 1/4" or so. So given the shortest shock I can seem to find on the market for this bike is only 1.5" shorter than stock, I'm not sure what my options are. An idea that popped up in my head was just having the stock shocks shortened like 4" but first of all, I'm not sure how that would work mechanically as far as bottoming out the shock and then I'm not sure if that's even possible. I could also have the progressive shocks shortened but they would need about 2.5" taken out of them and I don't know how I feel about hacking up a brand new $270 pair of shocks. So any help or suggestions here would be awesome.
---
1999 Kawasaki Vulcan 1500 Classic
2014 Ducati 1199 Panigale S

-David
12-03-2016, 06:45 PM
(This post was last modified: 12-03-2016 06:49 PM by WatchThis.)
WatchThis
Junior Member


Posts: 6
Joined: Nov 2016
Reputation: 0
RE: First Bobber
Over 60 views and absolutely no feedback? Guess I'm doing something wrong. Well I did get a set of drag bars and put them on, they're 6" rise and 6" pullback, 31" all the way across I believe. Here's what they're looking like: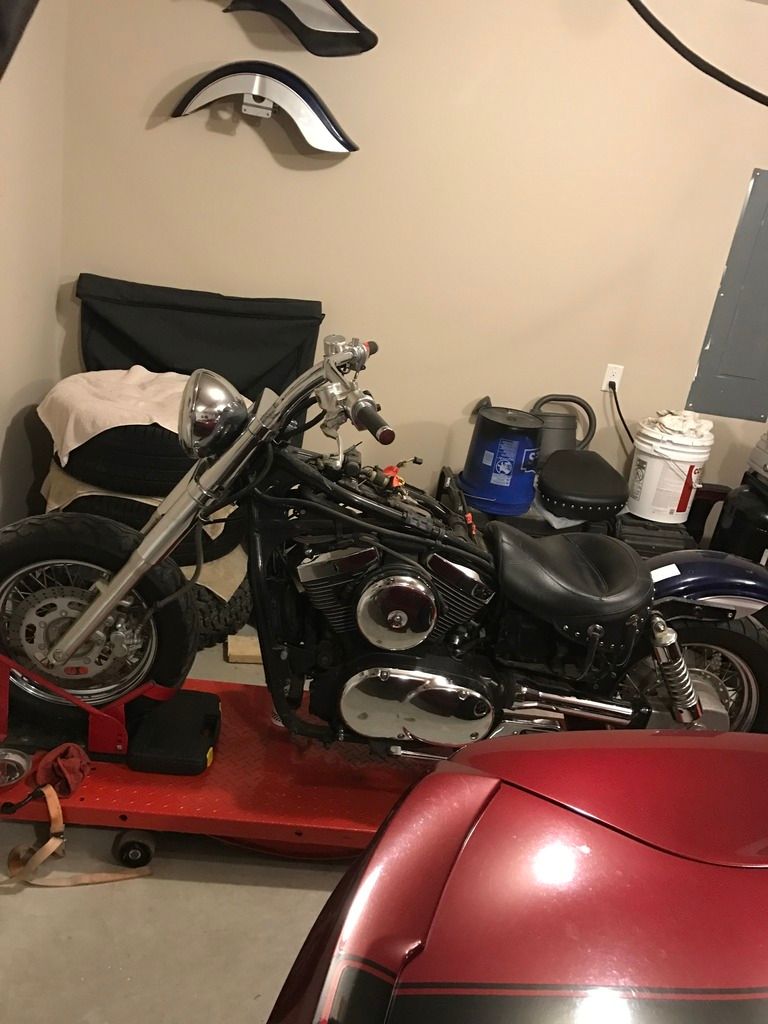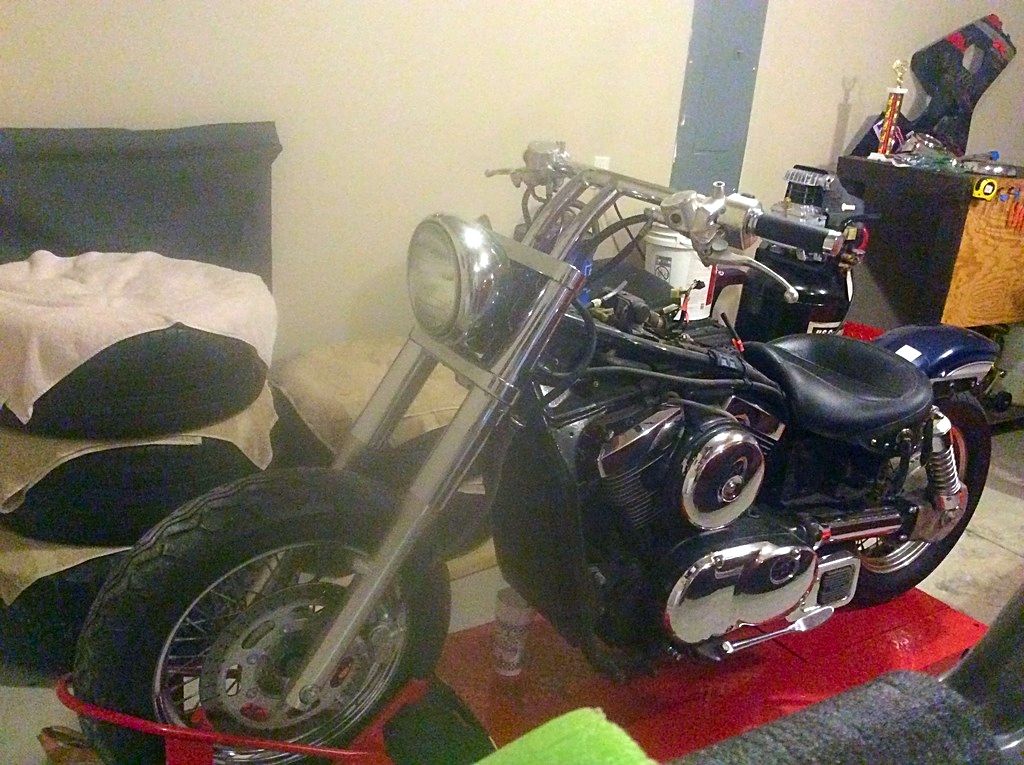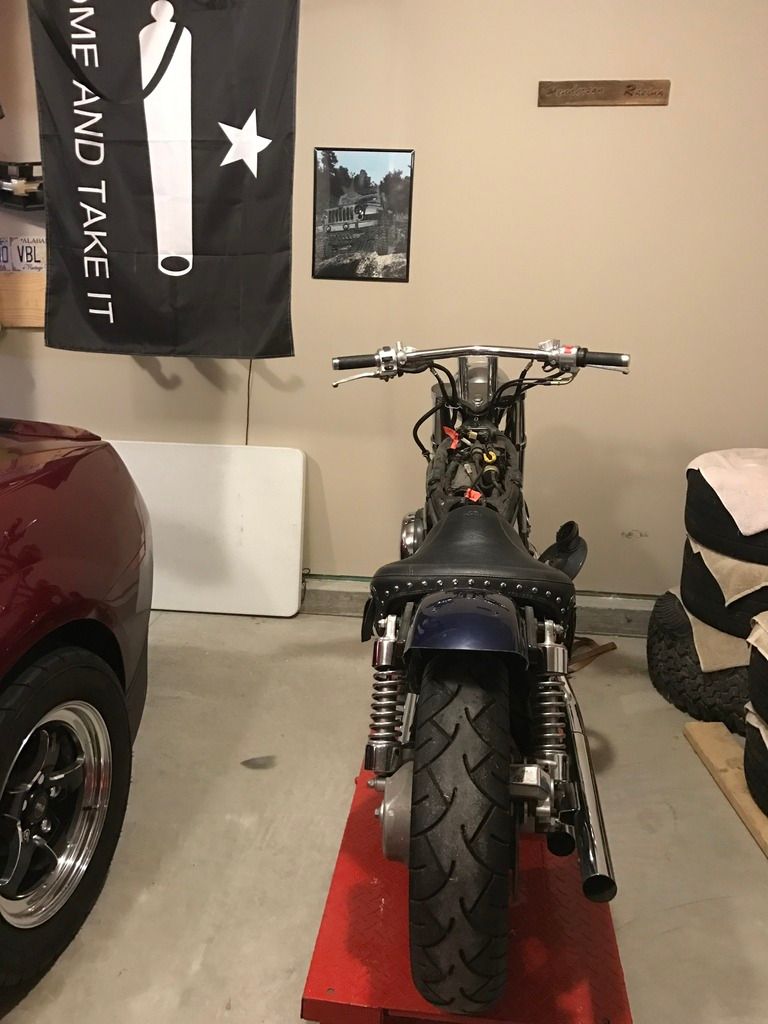 ---
Next on the list is the rear suspension. I got a set of rear shocks ordered earlier in the week that I'll hopefully have at my doorstep by the end of next week and get them put on. Hopefully they'll get that fender lowered a lot loser to the tire.
---
1999 Kawasaki Vulcan 1500 Classic
2014 Ducati 1199 Panigale S

-David
01-10-2017, 04:51 PM
TxRonHarris
Junior Member


Posts: 3
Joined: Nov 2016
Reputation: 0
First Bobber
Man, I'm liking your build so far. Interested in the progress on the rear end. I've got a 900 classic and wanting to bob the rear but leave the struts. Your rear fender looks good and I think you may be on to something with your shock idea to reduce the tire/fender clearance. I'm also wondering about changing the rear tire size/width to accomplish this as well. I think I've seen somewhere here a post about the largest rear tire you can run with the stock wheel/fender, but not sure where it is.

Post your progress if you've gotten any further. Don't worry about lack of response--seems like there's light traffic most times here and some of us look without thinking about posting.


Sent from my iPhone using Tapatalk
01-16-2017, 08:25 PM
WatchThis
Junior Member


Posts: 6
Joined: Nov 2016
Reputation: 0
RE: First Bobber
I'm glad you're liking the build. I'm pretty happy with the direction it's going, just trying to keep at it and get it "finished". As for the rear end, that's actually the biggest thing that's holding me up right now. I ordered new shocks as well as new springs to lower the front end back on cyber Monday and still haven't gotten the parts nor an update. So I'll be handling that one here this week hopefully since work has lightened up some. On the rear tire subject, I'm going to see what info I can get for a tire that's a little wider as well as a little taller in an effort try and fill out the rear fender more in both width and tire/fender clearance. Hopefully it works out like I see it in my head.
Only progress I've made since the last update was the LED headlight I swapped in. Also got all of the tins out to the body shop, fixed all of the dents and scratches and fresh paint sprayed on it. Work has been a little crazy so it's limited my time to work on the bike and I also figured I'd have the new suspension bits in by now but that's not the case. So I'll throw a picture below of the new headlight and hopefully have an update on the suspension soon also as that's a pretty big stage of the build that needs to be completed. Other big things on the list include forward controls, reshape/reupholster the seat, and then all of the maintenance.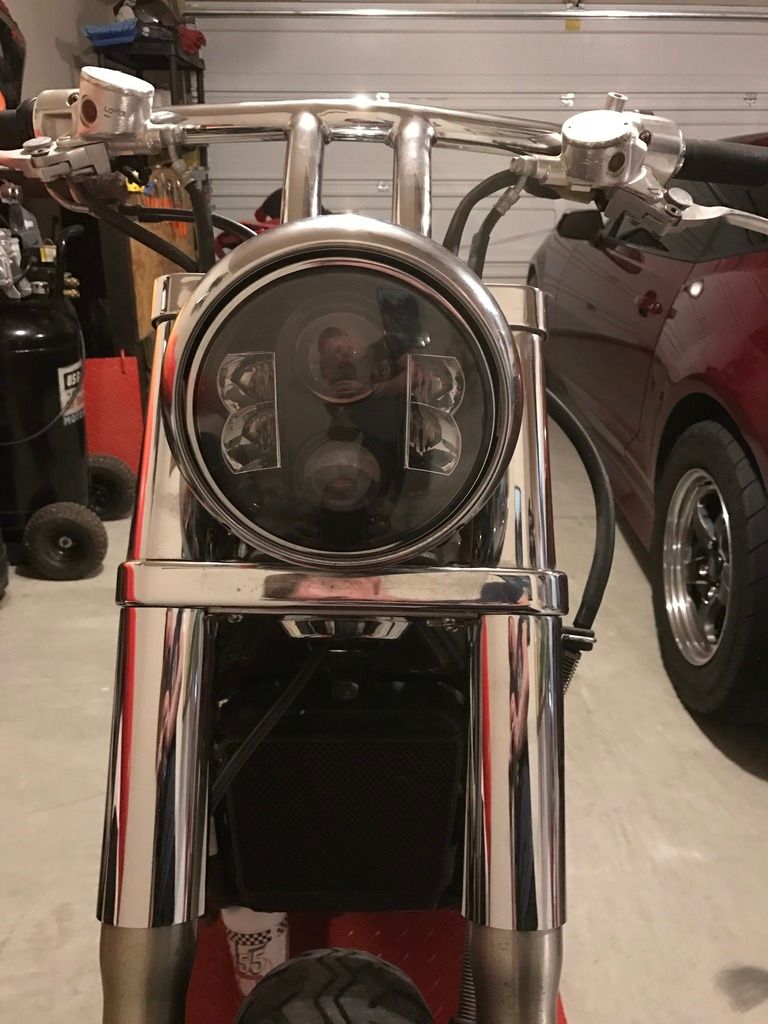 ---
1999 Kawasaki Vulcan 1500 Classic
2014 Ducati 1199 Panigale S

-David
User(s) browsing this thread: 1 Guest(s)